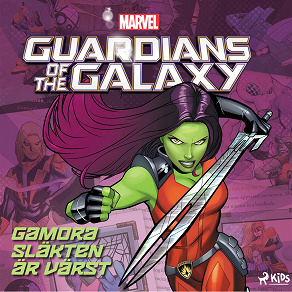 Guardians of the Galaxy - Gamora - Släkten är värst
DEN DÖDLIGASTE KVINNAN I GALAXEN
Den skräckinjagande krigaren och svärdskvinnan Gamora har tillfälligt lämnat Guardians of the Galaxy och blir tvungen att ge sig ut på ett FARLIGT uppdrag ensam. Hon måste hitta en mystisk kub som en gång tillhörde hennes far, den fruktade Thanos ... men hennes syster Nebula har andra planer. Med hjälp av några gamla vänner, som ROCKET, och några nya och oväntade, som PIP THE TROLL och ADAM WARLOCK, kommer Gamora att upptäcka vad det verkligen innebär att vara en del av en familj. Den här kosmiska krigaren kommer att få uppleva ett EPISKT äventyr och slutligen ställas mot sin tuffaste motståndare någonsin.



© Disney/Marvel. All rights reserved.

Följ med till MARVELS fantastiska universum! Lyssna på häftiga berättelser med Avengers Iron Man, Spider-Man, Hulk, Captain America, Black Widow, Thor, Hawkeye, Doctor Strange, Captain Marvel, Black Panther, Falcon, Ms Marvel, Star-Lord, Deadpool och alla andra hjältar och skurkar från MARVELS otroliga skattkammare. Ta på dig din mantel och hitta din inre superhjälte – nu drar vi på fartfyllda äventyr!
Listen to sample
---