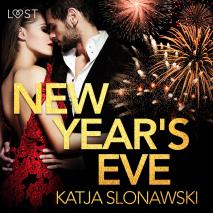 Isbn:
978-87-2630-380-3
Publisher:
LUST
Category:
Romance
Accessible since:
May 2020
Narrator:
Lily Ward
Length: 40 minutes
---
New Year's Eve - Erotic Short Story
»Woman without man looking for someone to spend the evening with. You will find me in the bar at Palace Hotel, 9pm, New Year's Eve. I will be wearing a black, full-length dress.« Four very different women find themselves with no plans on New Year's Eve. Looking for a date, they decide to place an ad in the classifieds section. This New Year's will be full of chance encounters and unexpected passion.

Katja Slonawski writes exciting and charged short stories about ordinary people in extraordinary situations. Focusing on the bubbly sensations that can only be brought to life by touch and expectation, she describes complex characters and challenges the idea of a traditional erotic short story. Katja Slonawski is an author of short stories and a word artist. She lives in the south of Sweden, but she is born and raised on the west coast, in Gothenburg.
Listen to sample
---