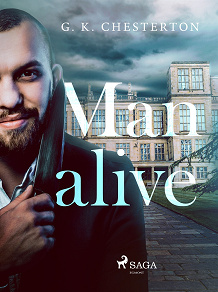 Manalive
"I am going to hold a pistol to the head of the Modern Man. But I shall not use it to kill him – only to bring him to life."

Innocent Smith, an "allegorical practical joker", turns everything upside down with his arrival at Beacon House, a London Boarding establishment. His passion and liveliness brightens up the place immediately, but at the height of the enjoyment, everyone is shocked when Smith tries to murder one of them.

But in 'Manalive' (1912), Chesterton's perhaps most joyful novel, nothing is as it appears, and the tenants will soon see life a whole new way.


Gilbert Keith Chesterton (1874-1936) was one of the most prolific English writers of all time. He wrote poems, plays, essays, newspaper columns, and is especially known for his fictional priest detective Father Brown. His "frenemy", the author of Pygmalion, George Bernard Shaw, famously called him "a man of colossal genius" and the two of them would often engage in friendly public discussions with people like H.G. Wells and Clarence Darrow. Chesterton died in his home, and his last known words were a greeting to his wife, author Frances Blogg.
---